Out Patient Department (O. P. D)
Indoor Patient Department (I. P. D)
Primary Emergency Medical Services
Diagnostic
Pre- Insurance Medical Checkups.
Corporate Healthcare
Community Healthcare
Pharmacy
Preventive Medicine/Health Plans
Medical Tourism
Nurses Training Programs
DMLT Training Programs
Referral Programs
Ambulance Services

Services Over the years we have been committed for providing the highest quality qualified health care and medical services possible to adults and children of all ages throughout the community. Our goal, is to make your visit a pleasurable, comfortable and affordable experience.

Out Patient Department [OPD ]
Various specialty OPD runs on daily basis. Appointments are available over phone and online request. People coming from far away are requested to book their appointment in advance before you travel. Those who patients who are very sick and  cannot wait in OPD should consult directly in the emergency department.   
OPD Time table for various specialty
SPECIALITY TYPE
DOCTOR
TIMINGS
DAYS
General Medicine
Dr.Pravin N. Pol
10am to 12.30pm
All days except Sunday
 
 
6pm to 7pm
All days except Sunday
 
 
 
 
Child Medicine
Dr.Pravin N. Pol
10am to 12.30pm
All days except Sunday
( Above 1 yr onward)
 
 
 
 
 
 
 
Diabetic
Dr. Pravin N. Pol
10am to 12.30pm
Mon, Wed & Fri
 
 
 
 
 
 
 
 
Nephrology
Dr. Sandeep Bhruke
By appointment
By appointment
 
Dr. Pravin N. Pol
10am to 12.30pm
Mon & Friday
 
 
 
 
Hypertension
Dr. Pravin N. Pol
10am to 12.30pm
Tue, Thu & Sat
Heart Failure
Dr. Pravin N. Pol
 
 
Chest Pain
Dr. Pravin N. Pol
 
 
2 D Ehco & Color D
Dr. Pravin N. Pol
9am to 10am
All days Except Sunday
 
 
 
 
Rheumatology
Dr. Pravin N. Pol
10am to 12.30pm
Mon & Sat 
 
 
 
 
Chest Medicine
Dr. Ajay Godse
10am to 12.30pm
Wed & Fri
Asthama
Dr. Pravin N. Pol
By Appointment
By appointment
TB
Dr. Pravin N. Pol
 
 
 
 
 
 
Pshychiatry
Dr. S. Danish
7pm to 8pm
By appointment
sexology
Dr. S. Danish
 
 
Deaddiction
Dr. S. Danish
 
 
Neuropsychiatry
Dr. S. Danish
 
 
Suicide
Dr. S. Danish
 
 
 
 
 
 
Diet & Nutrition
Dr. Shalini Shrivastava
7pm to 8pm
Mon, Tue, Thu & Fri
Obesity
Dr. Shalini Shrivastava
7pm to 8pm
Wed & Sat
 
 
 
 
Preventive Medicine
Dr Pravin N. Pol
6pm to 7pm
 Mon, Wed & Fri
 
 
 
 
Indoor Patient Department [ IPD ]
IPD is located on the ground floor with total 18 Bed strength inclusive of ICU care, Deluxe, Special sharing, Male and female separate wards. Admission to the class desired, is subject to the availability of room / bed. Emergency charges are levied for procedure done in emergency or on Sundays / Bank / Festival Holidays.
Types of Admission
Planned Admission: Booking done in advance.
Direct Admission: Incase of emergency.
Cashless Admission: Medical insurance.
Free Bed Admission: 02 Beds are made available for the needy people or BPL people as per availability of beds. Bed, Doctor, Nurses & procedure charges will be free of cost. Medicine and other consumables to be provided by the patients. Diagnostic services will be charged @ 50% only.
Discounted Health card Admission: All discounts as per the healthcard subjected to the availability.
Mode of Payments
Cash, Credit card / Debit card with 2.5% extra and Demand Draft.
Security Deposit
Is compulsory in all admission cases and need to paid before 12 hrs of admission.

Primary Emergency Medical Services
We take care of immediate emergency case on arrival. Dr. Pravin N. Pol is the in charge of the ICU and will be managing all type emergency and critical cases with his well trained staff and medical officer. He has tremendous experience acquired form Seth GS Medical College & K. E. M Hospital Parel. Apple Hospital & Medical Centre is open 24 hours. Mild to Moderate Emergency cases are managed and stabilized in our ICU and discharged. In certain few number of severe cases we stabilised the patients at our ICU and if required after initial stabilisation, patients are transferred to the nearest tertiary care hospital for further management, thus minimizing the fatal risk to life, in a well equipped cardiac ambulance which is having all the facility like ICU with doctor accompanying the patient on the way.

Equipments in ICU
Fully Air Conditioned, Trained Medical Officers and Intensivist, Trained Nurses and other paramedical staff, Defibrillator Machine (BPL DF2509), ECG Monitors, Pulse Oxyimeter Suction Machine, Emergency Crash Cart, Ambu Bags( Hand Ventilation), Laryngoscopes, Emergency Medicines, Oxygen cylinders, Sonography, 2 D Echo & Colour Doppler Portable X - ray( Allenger 100ma), ECG Machine.
Diagnostic Services
Clinical laboratory services is the most important service in healthcare scenario. The advent of computer and electronic technology has transformed the face of science and technology with healthcare being and important addition. The scope of technology has vastly increased. Moreover, the development in medical field has found wide access across the country as soon as it is generated. Apple Diagnosis centre a sister concerned organization and its services facilitate all the services under one roof using most modern technology and state of art equipment. A team of dedicated and highly qualified professionals promote the company. The close co- operation of experienced specialists provides the basis for a friendly, efficient service and the ability to meet our customers demands. Apple Diagnosis Centre has introduced state-of-the-art technology with sophisticated devices in all departments,so that customers get the best service.

Quality Control Program:-( ISO 9001:2008 UKAS)
Robust Internal Quality Control Program which runs on daily basis as per the guidelines.
ISO 9001:2008 United Kingdom Quality Assurance Program (UKAS) certified laboratory. "The aim of Quality Control is simply to ensure that the results generated by the test are correct. However, Quality Assurance is concerned with much more: that the right test is carried out on the right specimen, and that the right result and right interpretation is delivered to the right person at the right time" . All this various program  not only boost our confidence but also builds the faith to the end users like patients, referring doctors, Hospitals laboratories, insurance companies and corporate world who utilizes our diagnostic services.
Third Party External Quality Control Program.
Diagnostic
Pathology
Sonography
X - Ray
ECG
Cardiac Stress Test
2D Echo
Colour Doppler
Health Plans
Sonomamography
Spirometry Test

Pre-Insurance Medicals
Importance of pre insurance medical check up is growing day by day due to various odd known factors present in today industries. Good, unbiased and unadulterated medical reports is going to make all that difference to a underwriter for writing the the policy terms and conditions. Apple Hospital and Medical Centre is been trusted by more then 35 reputed insurance and Corporate companies over a period of 3 yrs and we are committed to deliver the excellence to all companies
with shortest possible TAT.

Silent Feature for Pre - Policy Medicals
All time availability of MD Physician and Cardiologist
Sunday and other public holiday open.
Same day reports available.
Stress test and 2D Echo/Colour Doppler done daily.
Good Internal and External Quality Control Program on daily basis.
Certified Pathology lab by Quality Assurance Program UKAS 9001:2008
Minimum waiting for the client at the centre.
More over we understand the importance and promptness require for this work better than any one.
Corporate Healthcare
"Health is Wealth", well said, least understood and least implemented in our daily life. Staying healthy is a very simple process perceived complicated by an individual. Corporate giants are more concerned about the well being of their employee. Hence the role of Pre- Employment checkup and Annual Health checkups are now implemented
as a standard procedure and they are on rising trend.
At Apple we have wide range of packages, plans and programs to offer to any kind of corporate companies. Tailor-made plans as per requirements of the individual companies. We also provide our services to small to medium scale industries, with best possible competitive rate with quality qualified medical services.
We always believe in keeping things simple and straight " no catch " and "no hidden costs".
Pre - Employment Checkup Plans.
Annual Checkup Plans.
Risk assessments, strategies and management.
Lectures all about Health and related issues.
Community Healthcare
Unfortunately in Indian we Indian spend majority of our money in the tertiary health care sector due to various reason like lack of awareness for medial education, not giving importance to the concept of preventive medicine, carelessness, neglect, and last but not the least poor medical infrastructure and lack quality medical professional in the remote/village level.
Simple life style modification, regular exercise, yearly health screening and prompt medical attention in case of early illness is the only solution to good health which will in turn will reduced the burden on tertiary health care considerably say around 30 to 40%
Keeping this fact in mind Apple Hospital has been involved in various free health camps, Blood donation camp, Free ECG, Free Cholesterol, discounted body check up and seminars at the request of many community on regular basis.This is more of social cause activity under taken by us to spread the message of good health and making aware of today raising trend in various medical alignment and many more topics of relevence are covered.
Any community, society, group, organization, clubs, mandal can approach us for such activity.
Preventive Medicine/ Health Plans   WHY HEALTH CHECK-UP? EARLY DETECTION AND TIMELY PREVENTION
Good health is the foundation of a happy, productive and rewarding life. Most health problem can be managed more effectively if detected early, and if some abnormality in the health parameters has been detected, certain preventive life style changes could stop further damage. advice on relevant life changes will be given  based on the results of your health check-up.

The modern life style symbolizes excessive stress and strain, extended working hours, irregular eating habits, late night weekends parties and inadequate rest. Coupled with high levels of pollution, these factor are bond to cause health related problems and physical ,mental and psychological disorders.

To meet growing demands of the competitive world, most of us tend to ignore our health until we are compelled to comfort a medical complication. To cop up with the rising risk of the medical disorders, health monitoring has been become mandatory.

The Health Check-up program of Apple Hospital And Medical Centre aims to preserve and promote good health, to prevent disease and disability and to facilitate early diagnosis and treatment of illness .

Apple Hospital And Medical Centre offers a wide range of health check up to cover all the age groups and both the sexes. These Packages have been very thoughtfully designed to target a specific section of the community. Consultations are given by a team of highly qualified and experienced medical professionals . Investigations are carried out on sate id the art computerized equipments . All services provided under the same roof. A Doctor's prescription is not at all required for a health check-up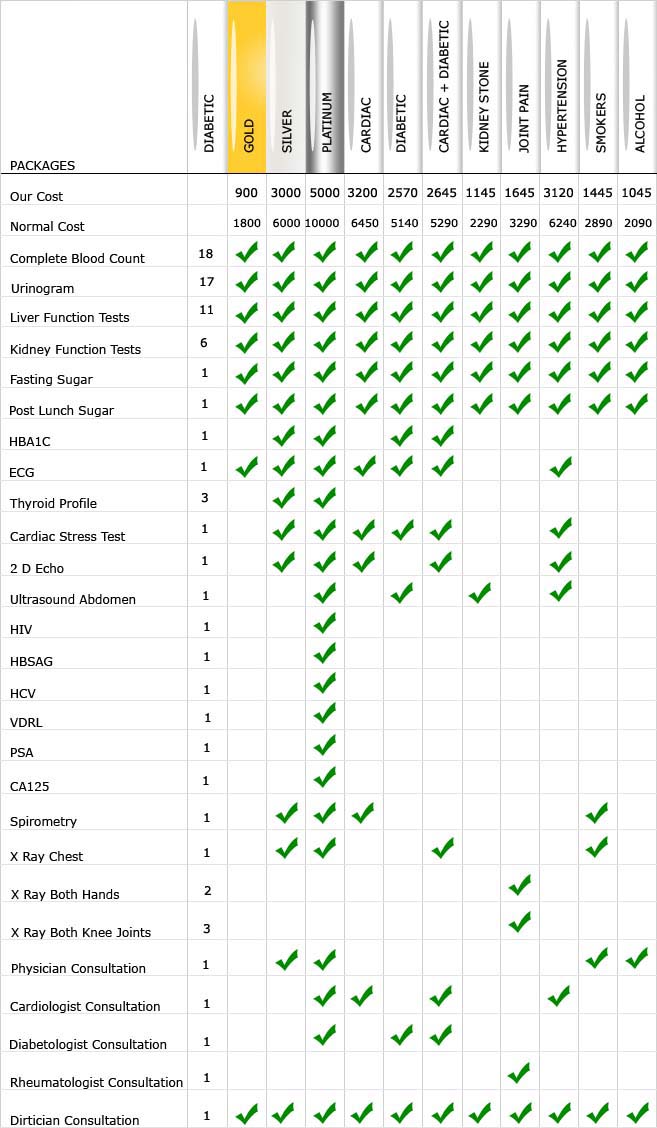 Ambulance Services are Third Party service
This services is specially provided by the dedicated team of doctor who runs this type of services to various hospitals in Mira - Bhayandar area. Word of caution, such services are also provided by non medical organization. Apple Hospital is not at all responsible for the services provided by the third party of Ambulance providers. Our role is to provide the information to the people & clinics in case if they need this type of services in their emergency period. We hope this information will prove to be helpful.
Consult Your treating doctor or physician regarding ambulance transfer. They will help you better, which type of ambulance is good, considering the patient general condition status.
Ambulance Type:


Cardiac Ambulance: This type of ambulance should have all the required necessary equipments like Cardiac Monitor, Pulse Oxyimeter, Defibrillator, Portable Ventilator, Oxygen, emergency medicine, ambu bag, Endotracheal tube, Laryngoscope, Doctor. Very critical patients are transferred in such type of ambulance. It cost much more then the others.


General Ambulance: This is an ordinary ambulance with oxygen cylinder and no doctor to accompany. Much cheaper one. Suitable for patients who are not critical. It is better to go in general ambulance rather then taxi or rickshaw. As we all know that ambulance are allowed free to reach the hospital without much bothering or waiting on signals compare to taxi and rickshaw who need to obey all the traffic signals. Please consult your Family doctor or Physician before choosing this option whether your patients is stable enough to get transfer in such type of ambulances.


Air Ambulance: The Concept of air ambulance is still not popular in India. Hoping to see such type of facilities in near future. We all know how Mumbai roads are? I guess it will be too expensive. Air Transfer is possible through the air lines, but need to confirm first with the respective airline and airport doctor about the necessary arrangements.


International Transfer: Also done by some agencies.

Ambulance Services available in Mira - Bhayandar Area.
1) Global Cardiac Ambulance: Contact Person: Dr. Mahantesh 9820484400,9324233041